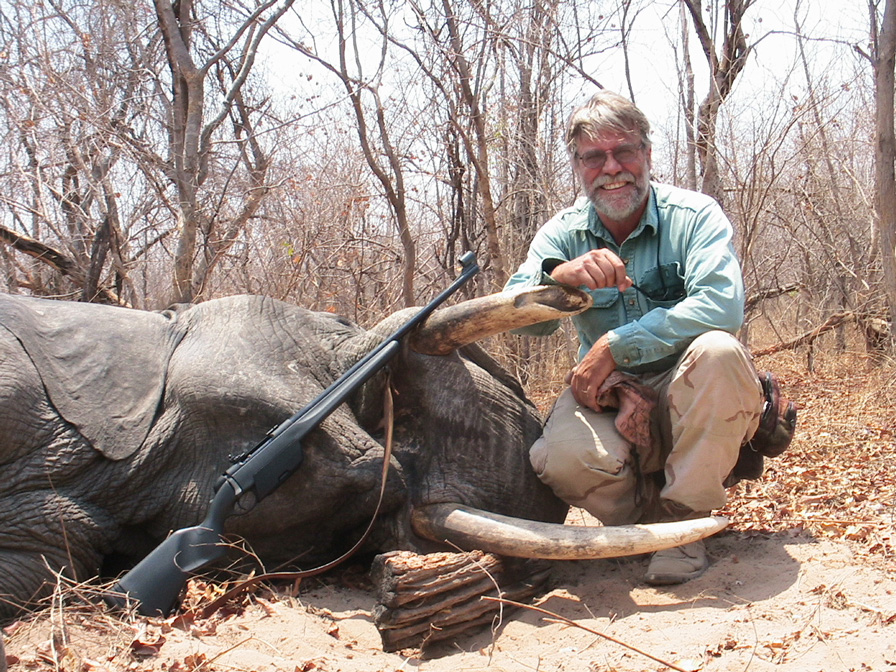 Management Bull Elephant, Chirisa Zimbabwe, Taken With Bad Boy VIII
Most hunters associate Africa with the "Big Five" species ("Dangerous Game") and with romantic traditional tented safaris. The list of countries where one can still hunt the Big Five is dwindling, and the cost of these hunts is now beyond the reach of many. South Africa is the only country where one can take all five species legally, and then only on private land where huntable populations of Rhino have been nurtured back from the brink of extinction. This feat may also be possible in Namibia but on an extremely limited basis with Rhino and Lion being the difficult pieces of the puzzle, but here at least some of your hunting will be on open range land. The traditional concession hunt is alive and well in Tanzania, Zambia, Zimbabwe, parts of Namibia, Mozambique and several Central and Western African countries. These hunting areas are generally well-managed by the respective governments who recognize their increasing value as a source of foreign currency (and many of these areas are in any case unsuitable for farming due to climate and tsetse flies...the hunter's best friend). In these few remaining totally natural and unspoiled areas, hunts are offered for four of the Big Five species, ie all except rhino. Lion hunts are limited, due to a feline disease that has reduced lion numbers in recent years, and the fact that lions and humans, particularly cattle farmers, do not get along well. The same can be said for Leopard but this species is much more elusive, being mainly nocturnal, and has adapted well, even thrived, in the midst of human settlement. Leopard are found and hunted in every country in Southern Africa (Botswana has just announced a ban reflecting that country's mineral riches and strong eco-tourist industry .. in other words they don't need hunting revenues and the greens have a lot of clout with the government). Leopard hunting is done mainly in the traditional manner (from a blind over bait) but in certain areas it's possible to hunt them with trackers and/or dogs - a very exciting hunt indeed. Cape Buffalo don't get along with cattle either due to the diseases carried by the former, but they are plentiful in the hunting areas and have been reintroduced on many former cattle ranches ... a buffalo hunt fetches $10-15K whereas a cow is worth perhaps $500. Buffalo hunts are very popular and widely available and the hunting of them is as hair-raising as ever.
The African Elephant is another species that is thriving, to the point where there are far too many elephant for the remaining habitat in many Southern African countries. This is not true in the rest of Africa, particularly those countries that don't "get" the economics of big game hunting and have allowed their elephant populations to dwindle due to lack of habitat and ivory poaching. Elephant hunts are surprisingly reasonable especially in Zimbabwe, where marauding (PAC), management bull, and tuskless cow (genetically inferior) Elephant are offered at very reasonable prices, below the cost of a Cape Buffalo hunt. Zimbabwe is also a popular destination for exportable trophy bull elephant hunts. However, finding a bull with heavy ivory outside the National Parks is still a challenge though...elephants need to live beyond the 50 year mark to develop good ivory so the elephant of today reflect the management practices of the past. The picture is getting brighter though. The best destination for big trophy Elephant is Botswana, where very large tuskers are taken each year at very large prices. A few good elephant are taken each year in Namibia. Elephant populations now exceed the carrying capacity of many national parks and concessions in Southern Africa, as a result of the decision to end culling in the late 80s (the resulting population explosion has triggered a habitat crisis and culling is about to resume in South Africa as well as Zim and possibly Botswana). Elephant are the most intelligent dangerous game species and are extremely challenging to hunt. For this reason some hunters graduate to hunting elephant only, and return annually for the sole purpose of hunting them. Lion are available in Zambia and Tanzania, but hunters must book lengthy hunts and pay high daily rates in addition to stiff trophy fees. Lion are also offered on a limited basis in South Africa (beware of "canned" hunts for aging circus lions!)and Botswana, although lion hunting has been permitted on an intermittent basis in recent times and is currently (2008) closed. Again, Zimbabwe provides the best value if not the highest density of Lion. Plan to spend $30 to 50K on a hunt for a mature male, and book two to three years in advance. Rhino are almost extinct in all but Namibia and South Africa, where populations have been nurtured back to huntable levels. In those countries, it has become necessary to take surplus and aging males to avoid often-mortal combat within the group. Prices are at the "if you have to ask" level, particularly for Black Rhino. The available quota is sold out years in advance, with Asian hunters paying very high prices for all the wrong reasons.
Hippo and croc have become desirable trophies and the term "Big Five" has been expanded to "Dangerous Seven" with the inclusion of these two species. Hippo are in fact responsible for more human deaths in Africa than any other species, and the territorial dominant bulls are very aggressive indeed. Croc hunting requires the utmost in stealth and bullet placement. Both species are available wherever human habitation is curtailed and perennial water is present.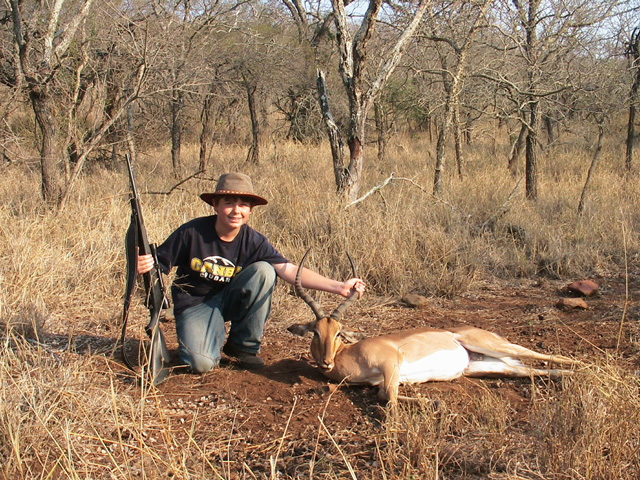 First Time Hunter with Non-trophy Impala Taken in Zululand, with Umkanyakude Safaris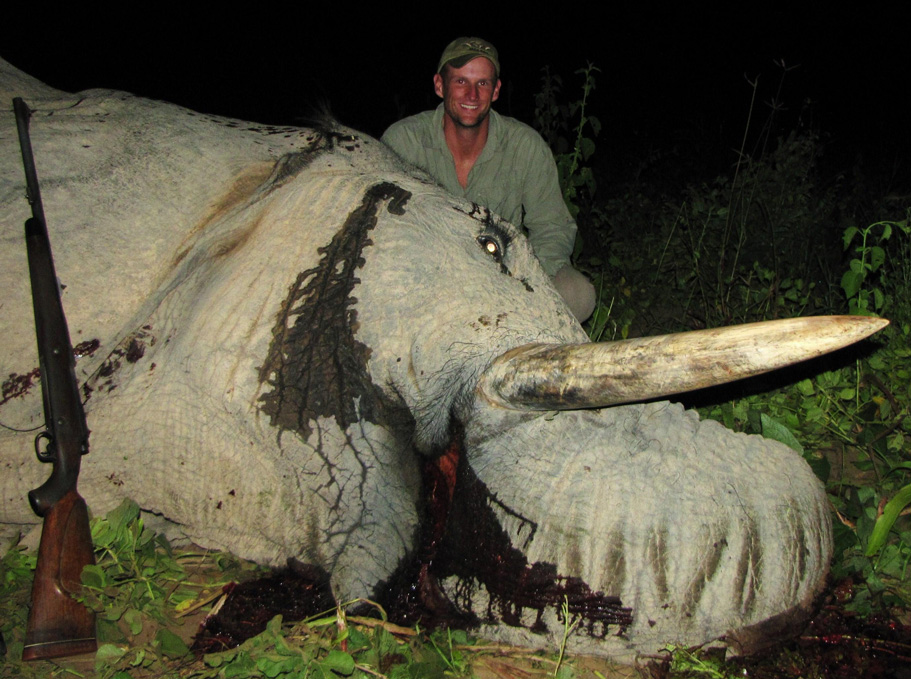 Marauding (PAC) Elephant - Fear and Adrenaline in the Moonlight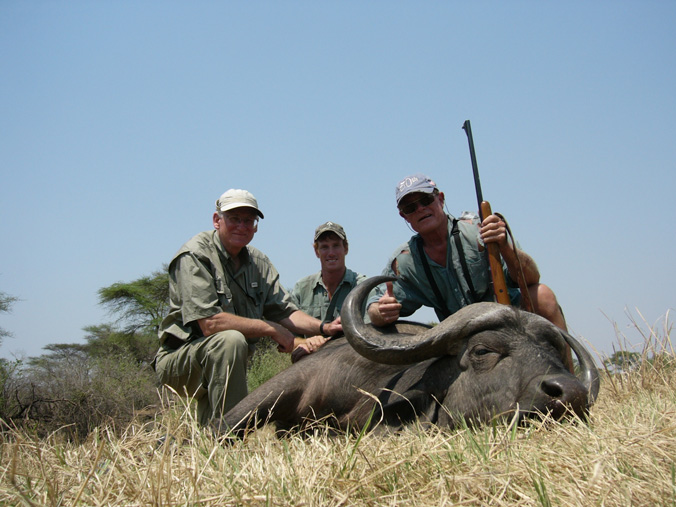 Chirisa Buffalo - aka the Black Death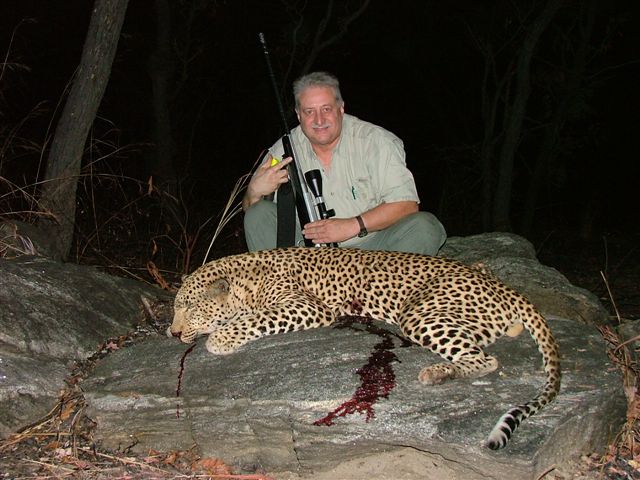 Mr. Spots...Prince of Darkness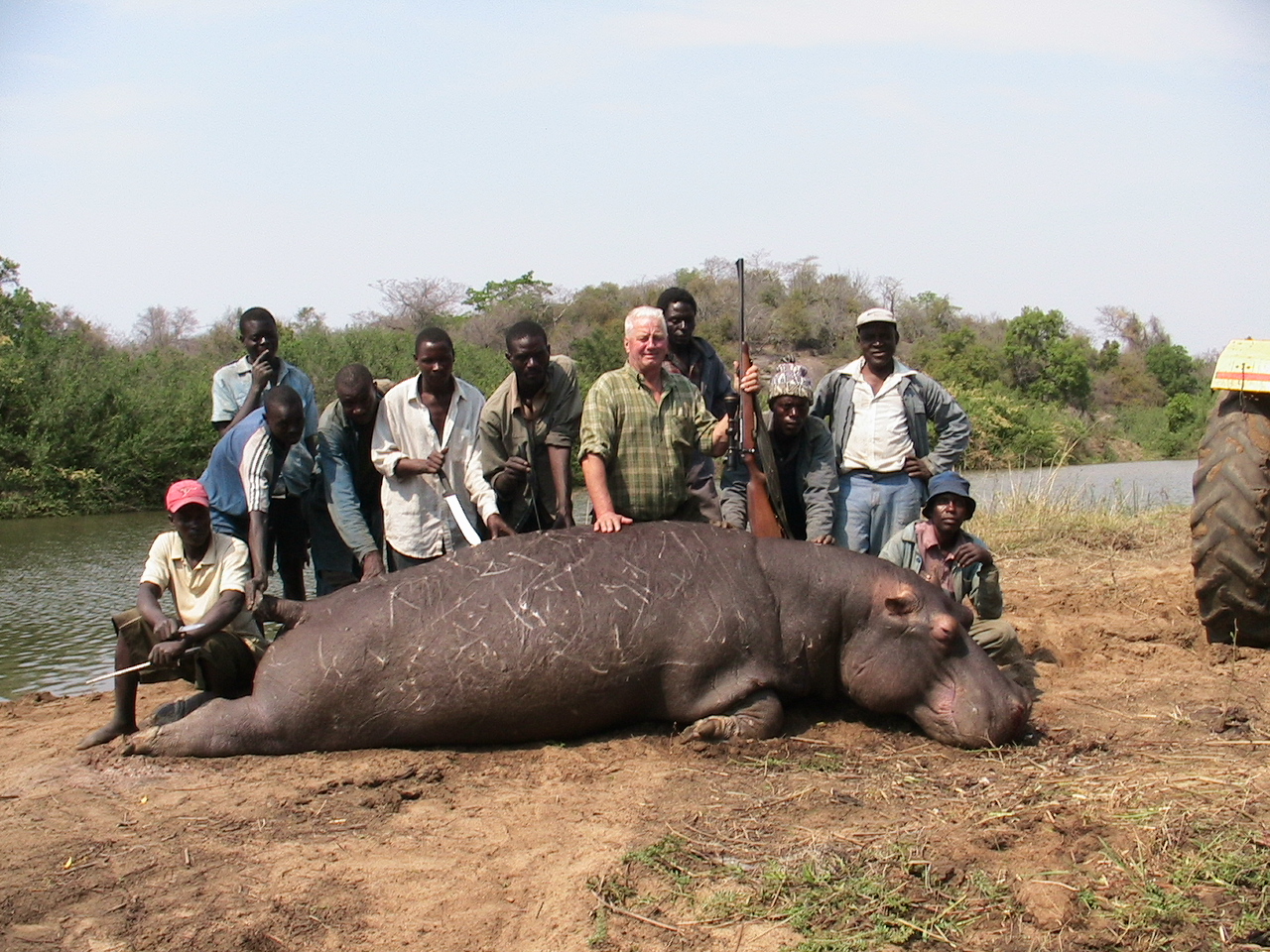 Hippo Bull - Big, Dangerous and Ugly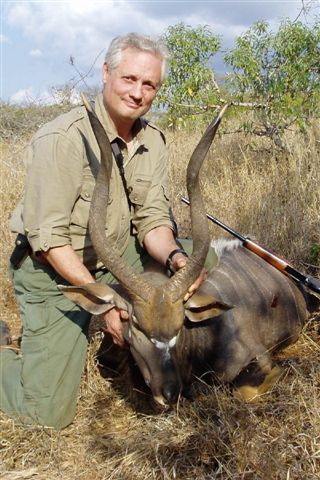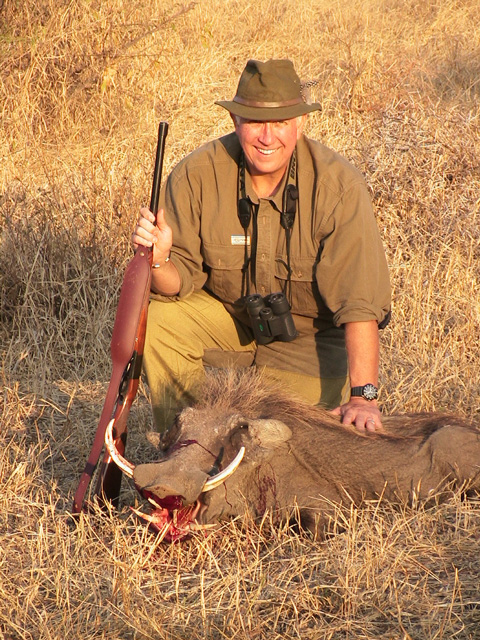 Exceptional 29.5" Nyala Taken in Zululand, with Umkanyakude Safaris; Nice Warthog Boar from Bubiana, Zimbabwe
Happily, the picture is very bright with regard to "Plains Game" hunting (ie species other than the "Dangerous Seven"). There is an expanding acreage of private land now dedicated to hunting the plains game species, particularly in Southern Africa, and the cost of a two week hunt for several species is very reasonable, comparable to a single trophy hunt in Alaska or Canada. These hunts are an excellent choice for the first time hunter (Article: Tips and Travel Advice). The hunts are usually conducted on large private properties with permanent lodges and are eminently suitable destinations for the family-oriented hunter. Some plains game is hunted incidentally on dangerous game hunts in the $1-2K per day concessions, but smart hunter will enjoy the lower daily rates and excellent trophy quality offered on private properties in many countries. Popular trophies are Kudu, Blue Wildebeest, Impala, Springbuck, Eland, Zebra, Oryx (Gemsbok), Hartebeest, Bush Pig and Warthog. More specialized trophies are Nyala, Bushbuck, Lechwe, Suni, Red Duiker, Klipspringer, Sable and Roan. The latter two species are in a class of their own, in terms of cost and difficulty. Sable are relatively common only in Zimbabwe and Mozambique and higher daily rates are often quoted for Sable hunts than for the other species. Roan are the rarest and most expensive of the plains game species, excluding perhaps Bongo which is regarded as a forest species and found only in Central Africa. Many hunters have made a special quest to collect the smaller antelope species of Southern Africa, ie Red and Grey Duiker, Steenbok, Klipspringer, Dik-Dik, Grysbok, Oribi, and Suni. Doing so will take the hunter to several different habitats and will stretch his hunting ability to the full.

The continued revival of all African species is dependent on the provision of suitable habitat and control of indiscriminate poaching, and those conditions in turn require a steady flow of money. This money is not generally available from government coffers (in many of these countries, fleets of Mercedes Benz cars have priority over herds of animals). Controlled sport and trophy hunting provides by far the biggest source of funds, so paradoxically the steady stream of foreign hunters making the long voyage to the "Dark Continent" to hunt these species is the biggest conservation force. Without paid sport hunting, it is safe to say that there would be almost no wild animals living in their natural habitat in Africa, outside of the few national parks and even those are sadly subject to mismanagement and poaching. Even in poor communal areas, the realization that a foreign hunter is willing to pay several thousand dollars for the opportunity to hunt a wild animal has led to a total change in mindset: from one where wild animals were regarded as a threat to farmers and at best a source of fresh meat, to one where hunting has provided money to fund the construction of schools, clinics, boreholes, and meat as well.